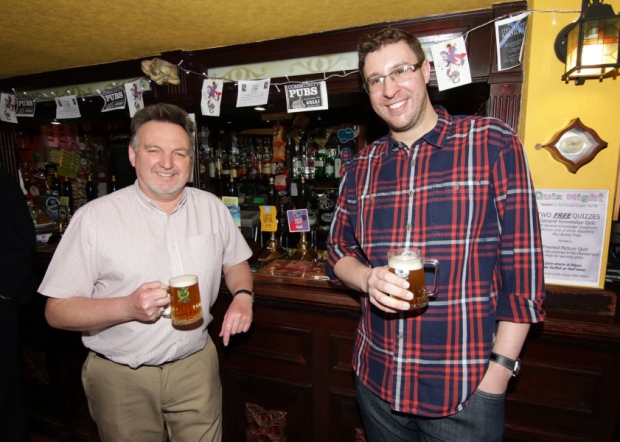 The rise of real ale, local brewing and the 'micropub' is helping Sheffield businesses soar, as trendy drinkers turn to their doorstep for a higher-quality pint.
New businesses have started up across the city in the past year, while others are seeing a surge as the real ale market grows.
The Campaign for Real Ale's (CAMRA) press officer Mike Rose puts the surge down to a greater interest in what goes into a drink.
"People don't just want a big multinational pint, they want a quality pint brewed locally," Mr Rose says.
"Customers have gone off the old keg beers and keg lagers, and they are becoming more discerning and expect a good quality pint. Increasingly, real ale has become trendy, it's cool among young professionals now. I don't think it's a fad, I think it's a long-term change.
"Sheffield has a good set of small breweries and has become a destination for breweries and real ales. It's a selling point for the city.
It is a sentiment echoed by The Kelham Island Tavern, which has found itself at the heart of what is now dubbed the Kelham Island 'real ale trail'.
Landlord Trevor Wraith said: "Craft beer is big at the moment. It has caused a lot of businesses to diversify.
"It's helping businesses grow. We do get a horde of people from Thursday to Sunday come from all over the country to Sheffield because it's renowned. We get coach trips, and a lot of people coming from the railway station starting at the Sheffield Tap."
Pub manager Dave Williams agrees, adding: "The more pubs that focus on not just locally brewed beer, but beer that's of a high quality, the more interest will drive and the more people will go back to using pubs.
"There's more movement now away from people being extremely price conscious –the interest in the quality of the product is what will bring people out of their house and into the pubs."
For Trevor, hooking onto the real ale market with the Kelham Island Tavern, as an independent pub, helped him out of a pickle after a tough time working as landlord of a 'tied pub'.
"When I started, the company who I leased it from was a good deal, you paid a fair rent and got beer at a fair price," Trevor said.
"But then it was sold out to a big pub company, and my initial meeting with them set the alarm bells ringing. It was a limited portfolio of drinks and the rent doubled."
So the answer is doing it independently?
"It is. Or a better offer. If it went back to the old system – brewery, estate of pubs, it works. It became brewery, middle man takes the biggest cut, then an estate of pubs. That model doesn't work."
John Harrison is another businessman who has taken advantage of changing tastes. He opened Sheffield's first micropub in December, The Beer House on Ecclesall Road, focusing on community and conversation.
"Pubs lost a lot of what the purpose of a pub is," he said. Pubs used to be a community place where people went for all sorts of reasons – to get work, to make business contacts, to make friends.
"When mobile phones came along, and Sky TV, pubs lost a lot of focus on drinks and conversation. Micropubs offer something that is needed – human interaction is the biggest part."
"There is no mobile phone signal in The Beer House. That's not intentional, it's a quirk of the building.
"People are also often forced to sit on tables together. That means you have to talk to people and you can't check Twitter or Facebook instead of having a conversation.
"Customers always tell us they have had a fantastic night because they are getting back to that human interaction and that contact.
"That's what's missing from modern pubs. Some large pubs have got a good selection of beers but they can have a soulless feel."
But how have drinkers taken to this new model, the first of its kind in Sheffield? Is this the future for pubs in the city?
"It has been fantastic since we started," adds John. "I have a lot riding on it in terms of that I want it to be successful. I want it to offer something better.
"I don't think micropubs will replace traditional pubs, I think they have an important place in the bigger picture. We are a small business that employs local people, sources local products and pays its taxes.
"People are attracted to that. People want quality and to know where their drinks have come from. Sheffield people are positive about Sheffield and will support Sheffield businesses."
For new Sheffield brewery Fugglebunny, latching on to the rise of the real ale market almost backfired right from the start.
Wendy and David Steeple opened Fugglebunny in Holbrook, Sheffield, in April 2014 to realise a life-long dream.
But it was almost foiled when a big wine company threatened legal action just two weeks before the company's big launch.
"Thinking of a name was a pretty hair-raising experience," says Wendy. "We called ourselves a name, we trademarked it and everything, there was nothing else like it, and we were getting ready to launch, we had all the casks printed, all the promotional materials.
"Then all of a sudden a massive wine company from the other side of the world called and said in no uncertain terms that if we didn't take the name off the company register we will take you to court.
"We were two weeks away from launch. I felt as sick as a dog. It was soul destroying."
Though the experience was a horrible one, Wendy said she was determined not to let it kill the dream.
"I think in the long term, they did me a big favour, although I couldn't see that at the time. The business has really taken off and I think a lot of that is the concept and branding."
The brand tells the tale of the 'Fuggle bunny', a rabbit character born from the closure of three big Sheffield breweries in the 1990s.
"Born out of this sadness sprung a cheeky little character who wanted to bring back to Sheffield and the rest of the UK, a 'proper pint of beer'", says the website.
Wendy adds: "It sparks a lot of people's imagination, especially students. They have gone big on it. If you look at big productions of beer, it's all chemicals. Whereas with a brewery like ours, it's more of a personal approach, with quality ingredients and no additives.
"It's going back to the old fashioned proper pint, with a modern flavour of hops.
"I think people are getting so fed up of bland drinks, that's why there are so many new breweries opening.
"It has been a lot of hard work, but you don't get anything unless you work hard at it. It's going really, really well so we're very pleased.
"We have had a go and up to now it's paying dividends."
Source: https://www.thestar.co.uk/